Biographie - Jolene Eustace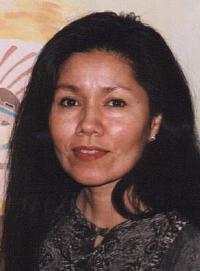 Jolene Eustace-Hanelt, Cochiti / Zuni
Geboren 1958 in Albuquerque, New Mexico, U.S.A., aufgewachsen im Zuni Reservat und in Albuquerque. Kunststudium an der University of New Mexico, Albuquerque & am Institute of American Indian Arts, Santa Fe, New Mexico.
Prägender Einfluß durch Mutter (Töpferin) und Vater (Fetisch - Schnitzer, Maler und Silberschmied). Lehrtätigkeit in Taos und Santa Fe, New Mexico. Stipendiatin und Studentin an der Kunstakademie in Düsseldorf 1997/ 98
Ausstellungen u.a. in: New York / Santa Fe / Phoenix / Los Angeles / San Francisco / Washington,
DC Obwohl sich Jolene Eustace-Hanelt von der herkömmlichen Art des Zuni Schmucks gelöst hat, sind ihre Kreationen doch in dieser Tradition begründet. Sie verwendet alte Symbole wie das Sonnengesicht der Zuni, Wasser, Berg, Schmetterling und fügt sie zu Unikaten zusammen.
Für ihre Kreationen verwendet sie 925er Sterlingsilber und Gold. Häufig verwendete Steine, die sie selbst schleift, sind Türkis, Sugilit, Lapis Lazuli, Opal und Koralle.
In Deutschland stellt sie in der Galerie Kokopelli in Mönchengladbach aus.
Jolene Eustace
"My work is my release.
My work is my meditation.
It's a way of going back to Mother Earth."

"Meine Arbeit ist für mich Befreiung.
Meine Arbeit ist meine Besinnung.
Sie ist mein Weg zurück zu Mutter Erde."

Als Silberschmiedin hat sie sich bereits einen Namen gemacht. In ihren Schmuckstücken verbinden sich Elemente der Poesie mit den ältesten Natursymbolen ihres Stammes der ZUNI, New Mexico. Sie verwendet u.a. Türkis, Sugilit, Opal, Lapislazuli in Kombination mit Sterling Silber sowie 14 Karat Gold.
Armband Sterling Silber mit 14Kt Gold, Lapis und Old Nevada Türkis in Blattform geschliffen Ring Sterling Silber mit 18kt Gold, Old Nevada Türkis
Zuni Sun, Brosche aus Sterling Silber mit 14Kt Gold, Ox Blood Koralle, Durchmesser ca 5cm dazu passend zwei kleine Zuni Sonnen als Ohrclips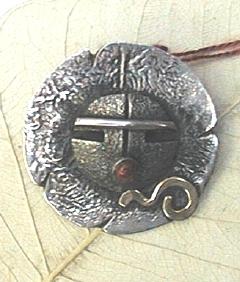 Halskette m. Pers. Türkisen, Lapis Lazuli, roter Koralle, 925-er Silber, 18kt Gold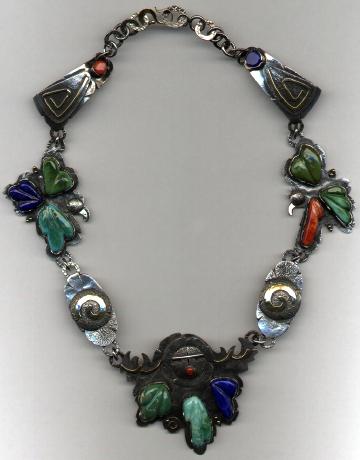 Rechts: Ohrstecker Sterling Silber mit 14Kt Gold Links: Ohrhänger aus Türkisscheiben, handgeschliffen, leicht konische Form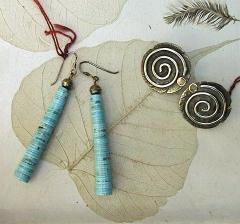 Planting Sage/Moon Ceremony - Butterfly Dance - Zuni sunface w. turq. - Kiva Moon (left to right)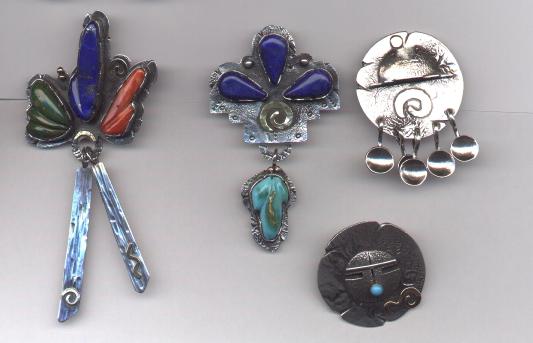 Sammlungen / Museen / Galerien
October Art, Park Avenue, New York
The Wheelwright Museum, Santa Fe
Heard Museum, Phoenix
Mosi Lakai Bikissi, Santa Fe
American Indian Contemporary Arts, San Francisco
South West Museum, Los Angeles
Dalai Lama, Tibet
Smithsonian Museum, Washington, D.C. (seit 1993)
Tribal Expressions Gallery, Chicago
Galerie Kokopelli, Mönchengladbach, Germany
Linden Museum, Stuttgart, Germany
Ausstellungen
Forward with Unborn Intentions One Person Sales Exhibition Wheelwright Museum, Santa Fe, Februar 1994
The Fourth of July Celebration Aspen, Colorado, Juli 1994
Swaia, Indian Market Santa Fe, August 1994
From the Earth Exhibition Madison, Wisconsin, November 1994
Changing Rivers One Person Sales Exhibition Wheelwright Museum, Santa Fe, April 1995
The Eight Northern Indian Pueblo Council Art Show Santa Clara, New Mexico, Juli 1995
The Pow Wow Art Show Santa Fe, August 1995
Swaia, Indian Market Santa Fe, August 1995
Swaia, Indian Market Santa Fe, August 1996
Jolene Eustace-Hanelt Wheelwright Museum, Santa Fe, 1996
Heard Museum Phoenix, März 1997
Galerie Kokopelli Mönchengladbach, Germany, April 1997
Swaia, Indian Market Santa Fe, August 1997
Heard Museum Phoenix, Februar 1998
Swaia, Indian Market Santa Fe, August 1998
Galerie Kokopelli Mönchengladbach, Germany, November 1999
Swaia, Indian Market Santa Fe, August 2002
Heard Museum Phoenix, Februar 2003
Swaia, Indian Market Santa Fe, August 2003
Galerie Kokopelli Mönchengladbach, Germany, November 2004
Linden Museum Stuttgart, Germany, December 2004 - March 2005