Ramson Lowatewama, Hopi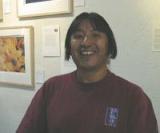 Ramson Lomatewama, Glasbläser, Silberschmied, Kachina Schnitzer und Dichter, geb. 1953, ist Mitglied des Eagle Clan und lebt mit seiner Frau und 4 Kindern in Flagstaff, AZ.
Dort besitzt er ein Studio, dass er für Besucher gerne öfnet. In den Wintermonaten verbringt er viel Zeit im Hopi Reservat, da er stark in die Zeremonien und das kulturelle Leben eingebunden ist.
Er schnitzt in der traditionellen Art, benutzt die gleichen Werkzeuge und Farben, wie sie in den Anfängen benutzt wurden, d.h., Obsidianschneiden anstatt Messer, Mineralfarben anstatt Acrylfarben.
Ramson Lomatewama, the first and only Hopi glassblower, jeweler, Katsina carver and poet, born 1953 into the Eagle Clan, lives with his wife and four kids in Flagstaff, AZ.
In his studio visitors are always welcome. In the winter months he spends a considerable amount of time on the Hopi reservation, involved in ceremonies and cultural life.
He replicates the ways dolls were carved, i.e., he uses obsidian blades and mineral paints.
Masaw Kachina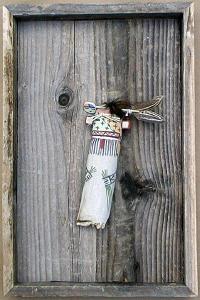 sold
/verk.