Henry Naha, Hopi, Kachina Schnitzer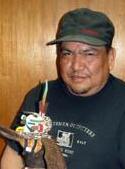 Henry Naha ist ein Hopi Schnitzer, der für seine Detailtreue bekannt ist. Er gehört zu dem Spinnen und Echsen Clan und signiert seine Kachinas mit dem Clansymbol und seinem Namen H. Naha.
Er war Schüler von Cecil Calnimptewa, seinem Hopi Paten. Er schnitzt nun seit über 20 Jahren, weitere Lehrmeister waren Denis Tewa und Joseph Dallas.

Die Körperproportionen seiner Figuren sind perfekt, mit ausgeprägter Muskulatur und einer grossen Detailtreue bis zu den Fingernägeln hin.
Henry Naha is a well known carver specialized in detailed carvings. He belongs to the Spider and Lizard clans, and signs his dolls with his clan hallmark followed by "H. Naha."
He was taught be one of the masters - Cecil Calnimptewa, who is his Hopi godfather. He has been an active carver for over 20 years and learned from others such as Denis Tewa and Joseph Dallas.

The body proportions of his carvings are perfect and the Kachina has well defined musculature. The hands are extremely well carved with detailed fingers and fingernails.