Twenty yards up the hill from his home, Edward Two Moons sits as the sun slowly streaks the plains of Albuquerque below him. From this vantage point his day begins as one of New Mexico´s premier jewelry craftsman. The ritual of morning thought and ancient prayers began well over 30 years ago as a designer for Sun Bell Incorporated in 1969. Even as a young man Eddie knew that his designs would always come from his heart and spirit.
Eddie has always been one to follow that spirit, he left Sun Bell in 1971 to create and design his own work as any young man would whose heart is filled with optimism, and for four years he practiced and perfected his craft on his own terms. From 1975 - 1989 he designed for the renown Mindlin Jewelers in Albuquerque, all the while the dream of creating his own work ever so quietly stirred in his mind. It was during this time Eddie became a certified gemologist accompanied with the accolades of his industry.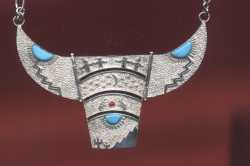 Opportunity came in 1989 when he purchased the Gold and Silver Exchange, giving him the income necessary to provide for his family and at the same time, the ability to practice his craft on his terms. Those terms have always been simple, conceive in the heart, visualized in the mind, crafted with the hands, for a one of a kind creation that will always stand the test of time.
Eddie sold the Gold and Silver Exchange in 2004, thus allowing him to concentrate fully on his art and craft. Today people around the globe view his web site to experience Native American Jewelry in its purist form. No mass market, one of a kind, and more importantly, from the spirit.